Wed Jul 12 2017
New York City
Summer Trading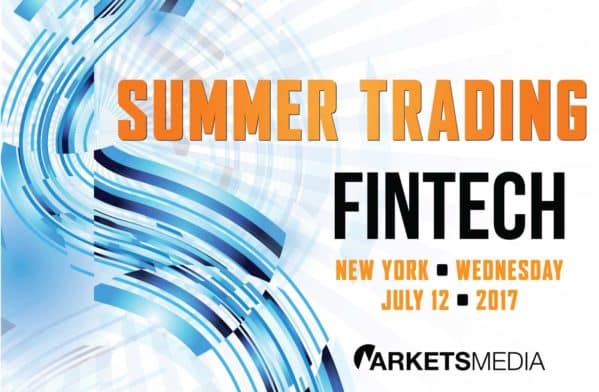 Fintech: From Innovation to Disruption
Financial technology has been a hot topic in capital markets for several years now.
It's exciting stuff. But the road from concept and academic discussion (INNOVATION), to actually being applied and generating efficiencies for capital markets (DISRUPTION), can be a long one.
Where do we stand?
Markets Media's half-day Summer Trading Network will explore this question, through the prism of four of the 'buzziest' fintech applications: artificial intelligence, blockchain, cloud, and data. Call it the ABCDs, and we'll tie it all together with content that examines the bottom line.
Provisional Agenda Topics
AI: Smartening Your Business
Artificial intelligence and machine learning has arrived at the shores of capital markets, and traders, compliance officers and wealth managers have taken notice. What are the latest applications of AI and just how transformative will it ultimately be?
Blockchain: A Status Report
Distributed ledger technology has been buzzing for a few years now, but Wall Street is still waiting for a big bang amid concerns about privacy and scalability. When will prototypes move on to pilot plans and use cases? Is there a chance blockchain isn't all it's cracked up to be?
Cloud: Is Remote Best?
Storing and managing on remote servers provides the agility and flexibility that market participants need to compete in the future. But migrating to the cloud is a massive endeavour. How will financial services firms adapt Who are the first movers, and who risks being left behind?
Data: How Firms are Managing
As the lifeblood of trading desks, data is bigger and better than ever but also more difficult to manage and exploit. What are the keys to efficient data management on the trading desk of the future? How are fintech firms providing solutions and where do gaps remain?
Fintech: Better, Cheaper and Faster
This panel goes will go beyond the conceptual and cut to the chase of how fintech is making institutional trading better, cheaper and faster. From pre-trade analytics to execution to settlement, how specifically is fintech making life better for market participants and market operators?
FAQs:
Q: How can I speak at Summer Trading 2017?
A: Fill out our speaker IOI form here.
Q: How can my company sponsor Summer Trading 2017?
A: Contact David at dgriffiths@marketsmedia.com or 646-442-4643.
Q: Do you have a reduced rate pass for startup companies?
A: Yes! The rate for startup companies under 3 years old is $195. Please email Lisa at lkim@marketsmedia.com to request the startup rate (subject to approval).
Q: I have feedback on the agenda. Who can I share that with?
A: Email Terry at tflanagan@marketsmedia.com and let him know what you want to see / hear / learn at STN 2017.
(Visited 556 times, 2 visits today)